The live coaching is included within your sponsorship package and is the best way to learn how to use the platform efficiently and effectively.
The coaching runs daily from 12 PM to 5 PM EST and you are able to join onto as many sessions as you like! We do recommend that you join the sessions in their designed order. The schedule, order and a description of the three different courses can be found below:
PLEASE JOIN ON TIME. SESSIONS WILL BE LOCKED AFTER 10 MINUTES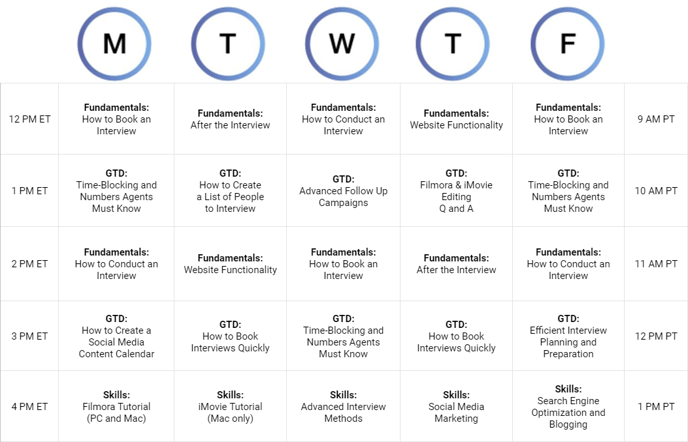 1. Fundamentals: This is where everyone starts. There are four sessions in total. We recommend joining them in the order listed below:
How to Book an Interview

How to Conduct an Interview

After the Interview

Website Functionality
These sessions run Monday to Friday, during two different time slots:
Round 1: 12 PM EST / 11 AM CST / 10 AM MST / 9 AM PST
Round 2: 2 PM EST / 1 PM CST / 12 PM MST / 11 AM PST
Each session repeats at least once a week, don't feel like you must join them twice! We strongly recommend joining all the 4 sessions in order, before moving onto any other coaching sessions.
Link to join the Fundamentals Coaching Sessions: https://us02web.zoom.us/j/86734607593
2. GTD (Getting things done): These sessions are to be joined after you've completed the fundamentals and they are all about action.
During these time blocks, there will be a blend of learning as well as action. e.g. Learn how to book interviews then DO IT!
These sessions run Monday to Friday, during two different time slots
Round 1: 1 PM EST / 12 PM CST / 11 AM MST / 10 AM PST
Round 2: 3 PM EST / 2 PM CST / 1 PM MST / 12 PM PST
Join these sessions as often as you can, even if you've joined them before. By doing this, you will get results!
Link to join the GTD Sessions: https://us02web.zoom.us/j/87254875064
3. Skill development: There are many vital skills that you can develop with the support of the Parkbench team.
We have created sessions for video editing (both PC and Mac computers), blogging and SEO as well as a detailed look at conducting interviews and promoting your content.
These sessions are a mixture of learning and DOING. Make time for them.
These sessions run Monday to Friday:
4 PM EST / 3 PM CST / 2 PM PST / 1 PM PST
Link to join Skill Development Sessions: https://us02web.zoom.us/j/81974565012

If you have any questions about the content, feel free to reach out to the coaching team at matthew@parkbench.com or our support team at support@parkbench.com