How To Use the Gorgias Templates: Email Templates for Gmail
As busy professionals, it's important to find ways to be more efficient in every day tasks. If you're finding you're sending the same emails regularly, or a variation of the same emails, using email templates can be a great way to save you time on a day to day basis.
The Gorgias extension is a great way to increase your productivity with templates and add keyboard shortcuts on Gmail and Outlook.
Email templates can help make your Parkbench processes simpler, by creating email templates such as:
Emails you send to book interviews
Emails you send to interviewees before the interview
Interview confirmation emails
Follow up email after the interview
Once you have templates set up in Gorgias, you can simply add any template to an email you're writing by entering the shortcut you've chosen and hitting the 'tab' key. Follow these steps to start using Gorgias Templates.
To add this extension to Google Chrome, click here.
As soon as you download the extension, you'll see the Gorgias Logo on the top right section of Google Chrome with your other extensions.
It will take you on a quick tour to teach you the basics, then you're ready to add your first template.
Clicking on New Template in the top left brings up this box.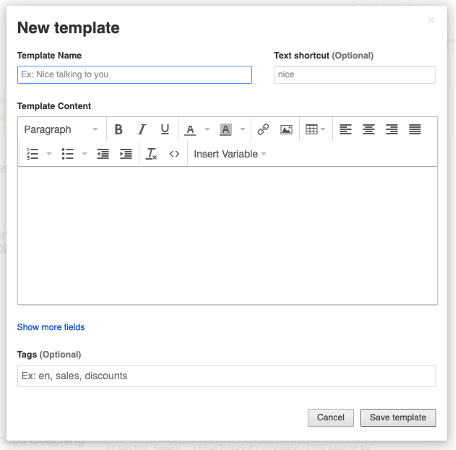 Template names will help keep your templates organized. Choose a shortcut that's easy to remember. If you're using this to create templates to send to an interviewee before and after the interview, consider using the shortcuts 'pre' and 'post'. You can also choose to create templates for shorter blocks of text, instead of full emails.
Clicking on 'Show more fields' at the bottom of the box pulls up further options: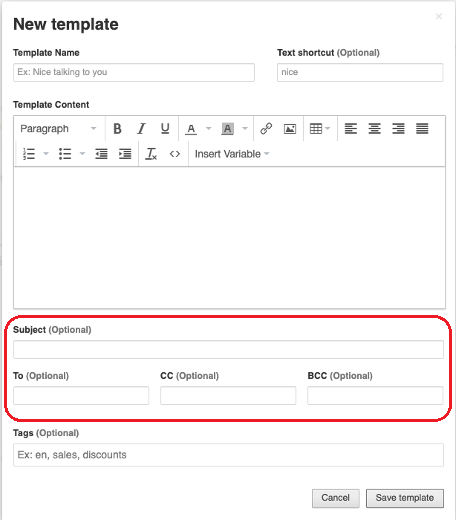 Here is a simple way to set up email subject lines that match your content, as well as CCing or BCCing anyone you regularly would to this type of email.
The free version of Gorgias template doesn't allow sharing with team members or collaborating on templates, but can be used quite extensively to organize how you communicate with your sphere. Outside of Parkbench relationships, Gorgias Templates can we used to stay connected with your database through follow up emails, sending reminder invitations to Real Estate clients, as well as interacting with members of your team or brokerage.
We all know that saving time is saving money, a small tracker on the bottom right of the screen will remind you how much time you're saving with Gorgias every time you use it.
For help on integrating Gorgias Templates, you can find their help center by clicking here, or ask one of our coaches.
Did this answer your question?