Step-by-step guide on how to manually add listings to your site
1. Click on your picture in the top right corner. This will open a drop down menu.
2. Click on "Control Panel"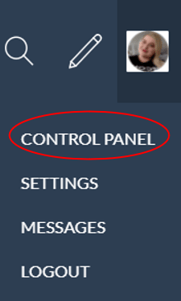 3. You will see a green box labelled "Listings". Click on this OR click on the Listings tab on the left side.


4. You will then see a green button that says "Add Listing". Click this to begin adding your listing.


5. Fill in the information for the listing. You can feature listings that you have sold in the past or that are currently live as well as pending. You can also upload pictures and videos. Please note that the mandatory fields for the listing include:
Neighborhood
Address
MLS #
Status
Listing Type
Price
6. When you are done, click on the green button that says "Add", located at the bottom of the page.