How is My Neighbourhood Site Named? An insight into why your site is named the way it is and why you may have several Parkbench sites.
The Parkbench website operations team build your website, during this process they give your site a title and URL. The title is shown on the cover photo of your site.


When you purchase a neighborhood, zip code, city or county Parkbench looks for neighbourhood names from official websites (city or government websites, Nextdoor, Google Maps ect). This can sometimes mean the site title is slightly different to the name it is locally known as. Changes to the title can be made. If you would like your site title changed you must sponsor 95% or more of the neighborhood name, city or county you would like to use in the title. If you are unsure send us an email to and the Parkbench website operations team will assess this for you.
Sometimes you will have several neighbourhood sites, it all depends on the area you have purchased. You can find the area you have purchased in your contract.
If you sponsor several neighbourhoods you can find their names on the real estate page of your parkbench site. If you click the neighbourhood names it takes you straight to that neighbourhood site.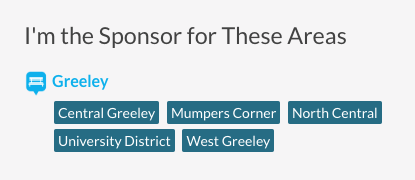 Often a parent site is created, this encompasses all of the neighbourhoods you sponsor. In the instance above "Greeley" is the parent site. All content shared here will be automatically shared to the other neighbourhood sites. If you do not have a parent site and have several sites you can request that one is created for you. This will become your main URL and the main site you add content to. The smaller neighbourhoods remain to help increase search engine optimization.
If you have any questions or for more information please email us at support@parkbench.com