The live coaching is included within your sponsorship package and is your first objective to complete. These sessions will get you up to speed on how to use Parkbench efficiently and effectively.
The coaching runs daily from 12 PM ET. You are able to join as many sessions as you like. However, we recommend that you join the sessions in their designed order. The schedule, order, and a description of the three different courses can be found below:
Required Sessions:
Session 1: Fundamentals - How to book interviews
Session 2: Fundamentals - How to conduct interviews
Session 3: Fundamentals - After the interview
Session 4: GTD - Time Blocking
Session 5: GTD - Advanced Follow Up Campaigns
Session 6: Skills - Social Media Marketing
Optional Sessions:
Skills: Filmora Tutorial (Both PC and Mac Users)
Skills: iMovie Tutorial (Mac Users Only)
GTD: Efficient Interview Preparation and Planning
GTD: How to book interviews quickly
Link to join the Fundamentals Sessions: https://us02web.zoom.us/j/83044061736
Link to join the GTD Sessions: https://us02web.zoom.us/j/86164536950
Link to join Skill Development Sessions: https://us02web.zoom.us/j/84733630166
PLEASE JOIN ON TIME. SESSIONS WILL BE LOCKED AFTER 10 MINUTES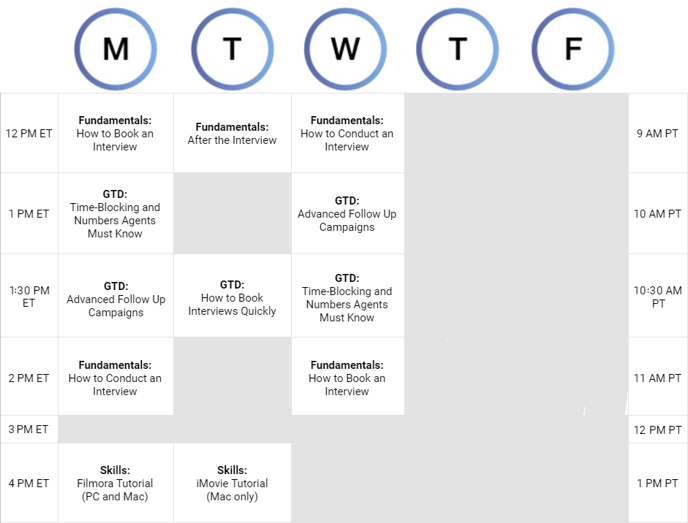 Need more support?
If you have any questions about the content or need one on one support, feel free to reach out to the coaches Lee (lee@parkbench.com) or Amer (amerb@parkbench.com) to book a call. For IT-related questions, please reach out to our support team via Live Chat, support@parkbench.com, or +1 866 721-3807 (toll-free).